WHO IS THE 2018 BLACK LED ORGANIZING GIVING PROJECT?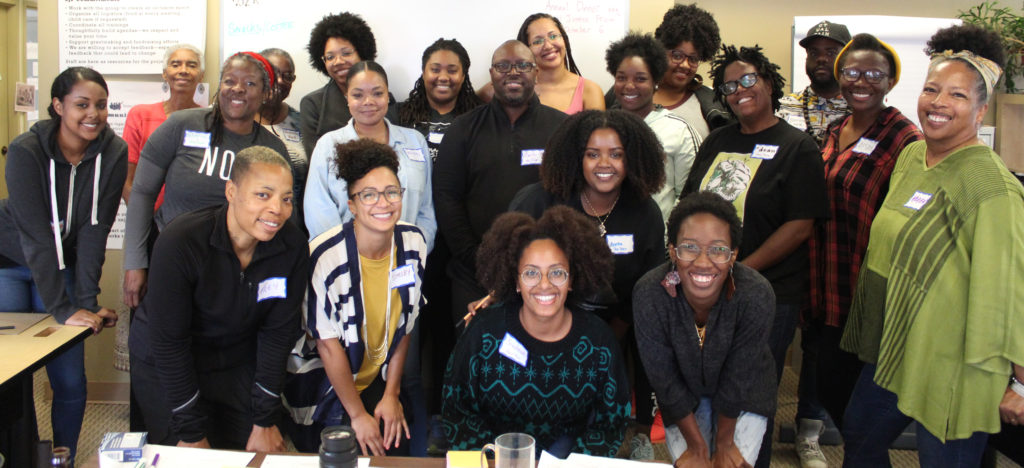 The 2018 Black-Led Giving Project is an all Black cohort of radical dreamers, non-profit leaders, youth mentors, fundraisers, social equity advocates, and educators from the fields of education, philanthropy, social and political organizing and more. We are impacted by unjust institutions and systems created to uphold white supremacy and motivated to fund change movements. We unite our strengths and talents to shift money and power to organizations that respond to our current inequitable system.
Our group is committed to respecting and honoring the power of Black people in the Northwest region whose lives have been unjustly targeted because of the color of their skin by:
Raising $210,000 to fund grassroots organizations working directly with the Black community and which are led by members from these communities
Developing a collective understanding of how race and class interact with the system to produce disproportionate and unjust outcomes.
Investing in the lives of impacted communities by making a meaningful, personal donation to the Black Led Organizing giving project.
Building a network of social-justice oriented community members who are dedicated to advancing social equity.
We recognize that we must work together, as a collective, to truly accomplish any of our goals. We would like to invite you to join us in this work.
If not us, then who? If not now, then when?
WHY BLACK LED ORGANIZING?
This giving project is the first of its kind in the way that all of the funds raised will explicitly be aimed at Black-led organizations
who are creating programming that focuses on building power and creating systemic change for Black communities here in the Northwest.  This grant will support community organizing work that addresses the intersections of race, class, gender, and other systems of oppression in the systems that disenfranchise low-income communities and particularly Black communities.
We are currently reviewing grant applications from a variety of groups in Washington, Oregon and Montana. Examples of this work could include organizing that addresses youth homelessness,
the lack of affordable housing, inequitable access to culturally relevant health and wellness programming, restorative justice alternatives to incarceration, immigrant and refugee crisis, inequitable access to education, mental health, and much more.  
We invite proposals from organizations that are led and directed by Black people impacted by unjust systems and institutions, and who are working towards systemic change.
These are two-year, general operating grants.
HOW CAN YOU SUPPORT US?
We are so glad you asked! You can do any of the following to support us:
Donate to our giving project

to help fund crucial Black-Led work in our region.

Donate at this

LINK

and put "Black-Led Giving Project" in the comments box.
If you were asked by a Giving Project member, make sure you include their name in the comments field as well.

If you want to know more about this work, contact a giving project member! Or contact our group and someone will set up a time to meet with you.

You can also contact Project Manager, Karen Toering:

karen@socialjusticefund.org

.

Ask others to

donate

to our giving project.
Contributions to Social Justice Fund's Black-Led Giving Project are tax deductible. We accept donations by credit/debit card, electronic funds transfer, cash, check, stock, donor advised funds, and planned giving.  Please go here for more information on how to give.